Fredrikstad 27-28. april
– Born In The U.S.A helg med blant annet Southside Johnny konsert 28/4
– BACKSTREETS "Tribute to Bruce Springsteen" konsert 27/4
– Fotorundreise i industri-USA, musikkhistorie, quiz, musikk, amerikansk mat..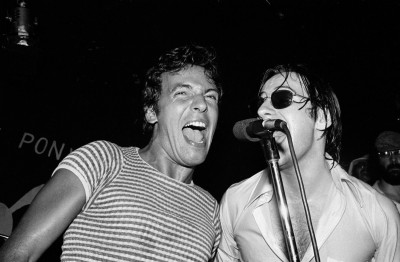 Foto: Et klassisk bilde av Springsteen og Southside Johnny (John Lyon) på gode gamle The Stone Pony i Asbury Park, N.J.
Det er i Fredrikstad det skjer, for de som vil varme opp før The Boss entrer Telenor Arena, og for alle som vil få med seg en rekke arrangementer som blant annet tar for seg rock som poesi, vi får fotorundreise i industri-USA, musikkhistorie, quiz, musikk, amerikansk mat og stor bilparade. "Vi får storfint besøk – og det blir samtaler om musikk, kultur og litteratur. Det blir bilparade, BbQ-party og mange kjente navn" forteller Roy Freddy Andersen ved Litteraturhuset i Fredrikstad.
Høydepunktet under Born in the USA-helgen, blir konserten med Southside Johnny and the Asbury Jukes, søndag 28. april, klokken 20.00. Jeg anbefaler alle og sjekke ut dette fantastiske programmet som er satt sammen; litthusfred.no/born-in-the-usa-hele-programmet-i-tekst
BACKSTREETS – a tribute to Bruce Springsteen
I tillegg til "Born In The USA – helgen" i Fredrikstad, holder også Springsteen tribute bandet Backstreets konsert på Oscarteatret i Fredrikstad lørdag den 27. april.


Rune Hellerud, mannen bak det alltid oppdaterte Springsteen nettstedet og forumet, Badlandso beskriver fjorårets konsertopplevelse med Backstreets på følgende måte; "Dette var uten tvil en helt fantastisk konsertopplevelse". "Som mange sikkert kjenner til så spilte de på Hard Rock Cafe etter konserten til Bruce Springsteen på Valle Hovin den 21. juli i fjor. Denne konserten ble raskt utsolgt og ble en knallsuksess. Les mer om dette her."
Denne gangen blir det en konsert i forkant av besøket til sjefen og med konserten til Southside Johnny dagen etter, så ligger alt til rette for en heidundrande Springsteen vorspiel i Fredrikstad den siste helgen i april. Backstreets spiller låter fra hele Springsteens karriere og de spiller også flere låter fra "Wrecking Ball" albumet.
Springsteen.net er på Twitter: @springsteen_net
Følg oss der!