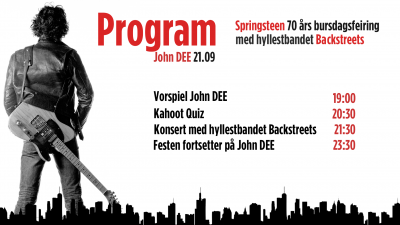 Da er programmet for feiringen og Backstreets – a tribute to Bruce Springsteen på John DEE klart. Det blir en helaften!
Vorspiel John DEE, kl. 19:00
Møt opp til vorspiel og møt likesinnede fra «Springsteen-menigheten». Det meldes om at kommer folk inn fra hele landet, fra nord til sør. Selv fra Sverige kommer det helfrelste Springsteen-fans. Spillelisten er fylt opp med Springsteen-relatert musikk. Selvfølgelig musikk av sjefen selv men også Little Steven, Southside Johnny, Patti Scialfa, Nils Lofgren, Patti Smith, m. fl.
I tillegg stiller Rockefeller med en ny drinkmeny, alt i Springsteen sin ånd. Gå i baren og bestill en "Glory Day" eller en "Spirit In the Night".
Kahoot Quiz, kl. 20:30
Hva er vel en fest uten Quiz? Til bursdagsfeiringen på John DEE arrangerer vi Kahoot Quiz før konserten. Spørsmålene er selvfølgelig relatert til Bruce Springsteen og premiene likeså – du kan vinne Springsteen vinyl, CDer og t-shirts. Premiene er gitt av Sony Music Norway.
Quizen blir ledet av Roar Bakken fra den Norske Springsteen fanklubben Blood Brothers.
Konsert med hyllestbandet Backstreets, kl. 21:30
Backstreets spiller opp til en heidundrende bursdagsfest for The Boss, som fyller 70 år! I tillegg feirer de 10-årsjubileum som band. Det er med andre ord et rutinert og feststemt band som kommer og spiller alle Springsteen sine monsterhits. Dette blir fest!
Gjesteartister:
De får med seg Terje Espenes fra bandet Jack Stillwater som gjesteartist.
I tillegg dukker det opp enda en gjesteartist i løpet av konserten. Hvem dette er forblir en overraskelse.
Kl. 23:30 – festen fortsetter på John DEE
Etter at Backstreets er ferdig fortsetter festen på John DEE med mer Springsteen-relatert spilleliste og god stemning.
Tramps! Can you feel the spirit!?
Billetter:
Forhåndssalget er strålende – har du ikke kjøpt billett enda så gjør du det på ved å gå inn her: https://www.ticketmaster.no/event/606141
Kilde:
http://www.springsteentribute.com/program-for-konserten-pa-john-dee-lordag-21-09/