Private Clarence Clemons memorial service at the Royal Poinciana Chapel,
Palm Beach, Florida.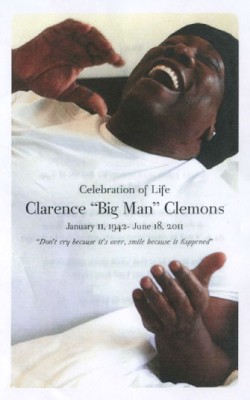 Memorial service's for Clarence "Big Man" Clemons har allerede funnet sted, tirsdag 22. juni kl. 14.00 lokal tid Palm Beach, Florida for 150 inviterte fra familie og venner. Bruce holdt minneord og gjorde en solofremføring av Tenth Avenue Freeze-Out.
Sammen med The E Street Band kompet de Jackson Browne som sang Clarence's låten Your A Friend Of Mine.
Bruce holdt en fantastisk minnestale for å hylle Clarence, og han sa blant annet;
"Clarence was a man of unconditional love, but his love came with a lot of conditions… He was a complex guy … an ongoing project. But when you were in his presence, it was like being in a sovereign nation"
Flere ganger tidligere har Bruce måttet oppleve at gode venner og bandkollegaer har gått bort, og disse talene hans har vært så gode at det nå nørmest forventes at han overgår seg selv gang på gang. Noe han også gjorde for sin venn Clarence. En av de som var tilstede sier ifølge nettstedet Backstreets;
""Bruce was amazing. Beyond amazing. We've come to expect this from him by now, but his eulogy was just perfect: he pulled no punches, it was very honest, and of course it was full of love and truly befitting."
Clarence's siste ønske var at hans kone Victoria skal spre asken etter ham på et utvalgt sted på Hawaii, og gjøre dette sammen alle hans tidligere eks-koner. Tre av fire eks-koner var tilstede under minnesseremonien.
Mer om minnestunden på Palm Beach Daily News http://www.palmbeachdailynews.com/news/private-clarence-clemons-memorial-features-bruce-springsteen-jackson-1552856.html?cxtype=rss_news