LIGHT OF DAY OSLO 2009 – 1. DESEMBER PÅ HERR NILSEN
– konsert til inntekt for Parkinson organisasjonen Light of Day og Norges Parkinsonforbund. Konsertstart kl 21.00 – presis.
Headliners: Willie Nile, Joe D'Urso, Jesse Malin & Marah (US)
Special Guest: ULABRAND
Billetter: kr 200 + bill. avgift. kan kjøpes på Billettservice og Posten frem til kl 17.00 konsertdagen. Billetter selges også i døra fra kl. 20.00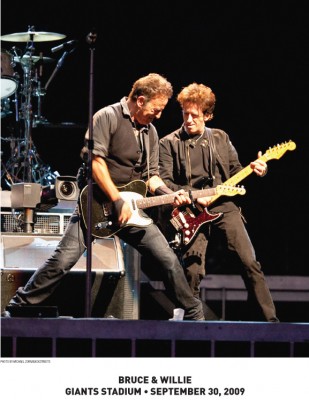 PHOTO BY MICHAEL ZORN/BACKSTREETS.
USED WITH PERMISSION FROM MICHAEL ZORN/BACKSTREETS AND JON LANDAU MANAGEMENT.
SPILTE MED SPRINGSTEEN PÅ TURNEAVSLUTNINGEN I BUFFALO
– Willie Nile som kanskje er det største trekkplasteret til neste ukes Light of Day konsert på Herr Nilsen fikk den store gleden av å bli invitert på scenen under Springsteen aller siste konsert på WOAD Tour som ble avsluttet i Buffalo, New York søndag 22. november. Bildet over er fra Giants Stadium 30. sept da Willie også sang og spilte sammen med Springsteen på tre sanger. Mer om den fantastiske turneavslutningen til Springsteen med setlist og bilder kan du se hos Backstreets.
Det var på en av de siste låtene (Your Love Keeps Lifting Me) Higher and Higher hvor Willie Nile spilte gitar og koret på arenaen med plass til ca 20.000 tilskuere. Tirsdag spiller han for en god sak foran 150 tilskuere på Herr Nilsen i Oslo.
VIDEOER FRA LIGHT OF DAY OSLO 2008
Video: Willie Nile – Hard Times in America, Garage, Oslo 30.11.08
Video: Joe D'Urso with all artists – I Shall Be Released, Garage, Oslo 30.11.08
Vi har lastet opp flere videoer også fra fjorårets Light of Day i Oslo,
de ligger her: http://www.youtube.com/bloodbrothers01
Snarveier:

Jesse Malin – Wendy:
http://www.youtube.com/watch?v=V7WFJGR7WB8
Marah – Round Eyes Blues:
http://www.youtube.com/watch?v=uV5wi_xbIPg
Willie Nile – On The Road To Calvary:
http://www.youtube.com/watch?v=xKaveGIbwgQ
Joe D'Urso: Rockin' In The Free World
http://www.youtube.com/watch?v=mBdz0AqlYMU