I dag torsdag 14. mars i 12-tiden på formiddagen starter Wrecking Ball turnèn opp igjen etter ca 3 måneders pause. Dette skjer i Brisbane i Australia hvor de spiller to konserter, deretter hele tre konserter både i Sydney og Melbourne, og avslutningsvis 2 konserter Macedon!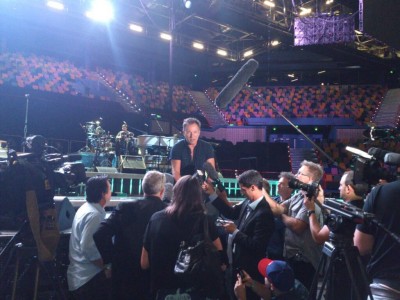 Foto: Bruce møter pressen før konserten i Brisbane i dag.
Foto av @frontiertouring
Totalt 10 konserter Down under før Bruce og E Street har èn måneds opphold før de sparker i gang Europaturnèn i Telenor Arena med to konserter den 29.og 30. april.
Sist Bruce spilte i Australia var for ti år siden under The Rising turnèn. Det spesielle denne gangen er at vår venn Little Steven ikke er med, han er i Norge hvor innspillingen av sesong to av Lillyhammer pågår for fullt! Bruce har invitert med Tom Morello som "erstatter" for Little Steven, så får vi se hva det bringer!
Bilder fra scenen
Lef Carrol, en av gutta i crewet til Springsteen tvitret gjennom hele fjoråret bilder tatt fra center mic (Springsteen mikrofon) og ut mot arenaen/stadion før konsertene. Dette er artig å følge med på, og han vil trolig følge opp dette i år. Her er bildet tatt fra scenegropa like før publikum slippes inn til konserten i Brisbane nå i dag. http://instagram.com/p/W09yvOld_C/
Lef Carrol på sosiale medier:
instagram
Twitter

Følg oss på @springsteen_net gjennom turnèn!
Oppdatert 14:20
..og disse låtene ble spilt på den første konserten av årets turnè:
1. We Take Care of Our Own
2. JUST LIKE FIRE WOULD (The Saints)
3. Wrecking Ball
4. Badlands
5. Death To My Hometown
6. Hungry Heart
7. My City of Ruins
8. Spirit In The Night
9. The E Street Shuffle
10. Jack of All Trades
11. Murder Incorporated
12. Johnny 99 (w/Honky Tonk)
13. Because the Night
14. She's The One
15. Shackled & Drawn
16. Waitin' On a Sunny Day
17. Apollo Medley
18. The Rising
19. The Ghost of Tom Joad
20. Thunder Road
21. We Are Alive
22. Born To Run
23. Glory Days
24. Dancing In the Dark
25. Tenth Avenue Freeze-Out
3 hours 10 min.