Det ble den lengste Springsteen konserten på norsk jord, og de som regner på de eksakte minuttene sier at denne konserten på 3 timer og 47 minutter, er Springsteen nest lengste konsert noensinne! Bare slått med ett minutt av konserten i Madrid 17. juni i år.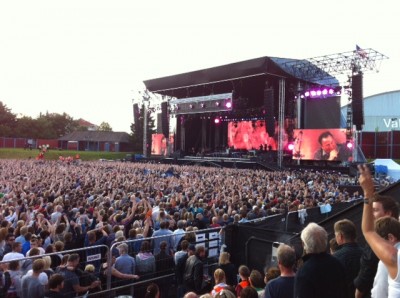 Se nettavisene til VG, Dagbladet, Aftenposten, osv for omtaler og reportasjer fra Valle Hovin konserten! Der er det plenty av stuff!
Låtene:
1. The Promised Land (solo acoustic)
2. No Surrender
3. Two Hearts
4. We Take Care of Our Own
5. Badlands
6. Wrecking Ball
7. Death to My Hometown
8. My City of Ruins
9. Spirit in the Night
10. Ain't Good Enough For You
11. Hungry Heart
12. Streets of Fire
13. Prove It All Night
14. Johnny 99
15. Working on the Highway
16. Shackled and Drawn
17. Waitin' on a Sunny Day
18. Raise Your Hand
19. Rocky Ground
20. The River
21. The Promise (solo piano)
22. The Rising
23. Lonesome Day
24. Land of Hope and Dreams
25. We Are Alive
26. Born in the U.S.A.
27. Born to Run
28. Glory Days
29. Seven Nights to Rock
30. Dancing in the Dark
31. Tenth Avenue Freeze-out
32. Twist and Shout
33. Night
Selv mener jeg dette var en meget bra konsert, men stemningen har vært bedre tidligere. Men det kan hende jeg da snakker om den individuelle følelsen som er knyttet opp mot hvor mange konserter man har sett, og ikke minst hvor på stadion man står – der ligger nøkkelen. Jeg hadde i går valgt å stå på tribunen på siden, for å "spare" meg litt før to konserter i Bergen og to i Gøteborg. Jeg følte med som tilskuer, ikke deltaker på konserten. Men dette var et bevisst valg, og jeg var fornøyd med det da. De mest fantastiske opplevelsene får man ved å stå nede på gulvet langt framme!
– Roar