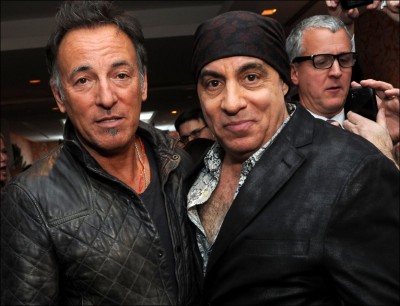 (Foto: AFP)
Bruce "elsker" Lilyhammer!
I går var det førpremiere på Lilyhammer da Netflix som skal vise serien på nett, inviterte til en forhåndsvisning av første epsiode i New York. The Boss var med for å overvære premieren, og likte det han så, " "I loved it, it was fun. It was fun to see my buddy", sa Springsteen til Spekeasy.
VG har i dag en fin sak om happeningen!
Forøvrig nevner jeg at Bruce og E Street nå har kommet i gang med øvninger foran den kommende turnèn, og det store spørsmålet som aller lurer på, blir det saksofon/blåserekke "erstatninger" for Clarence, så er svaret 99% ja, men hvordan og i hvilken form, jobber Bruce intenst med nå og derfor har øvningene denne gangen startet ekstra tidlig.