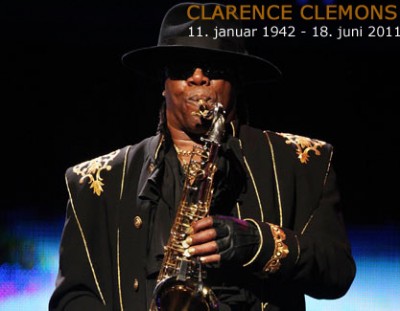 CLARENCE CLEMONS
11. januar 1942 – 18. juni 2011
Rest In Peace, Brother

I går kveld kl. 19.00 døde Springsteens saksofonist Clarence "Big Man" Clemons som følge av komplikasjoner etter han ble rammet av slag søndag 12. juni. Han ble 69 år. Dette er bare trist.
Backstreets Magazine har på sitt nettsted laget en fin minnesak og med mange flotte bilder av Clarence, les og se her: http://www.backstreets.com/clarence/
Bruce har mistet en nær venn, og høyt elsket bandkollega gjennom 40 år,
og dette sier han om Clarence sin bortgang på www.brucespringsteen.net
"It is with overwhelming sadness that we inform our friends and fans that at 7:00 tonight, Saturday, June 18, our beloved friend and bandmate, Clarence Clemons passed away. The cause was complications from his stroke of last Sunday, June 12th.
Bruce Springsteen said of Clarence: Clarence lived a wonderful life. He carried within him a love of people that made them love him. He created a wondrous and extended family. He loved the saxophone, loved our fans and gave everything he had every night he stepped on stage. His loss is immeasurable and we are honored and thankful to have known him and had the opportunity to stand beside him for nearly forty years. He was my great friend, my partner, and with Clarence at my side, my band and I were able to tell a story far deeper than those simply contained in our music. His life, his memory, and his love will live on in that story and in our band".
Utdrag fra Clarence sin kanskje mest berømte solo, Jungleland, 17/3-08


CLARENCE CLEMONS TIL MINNE
– bilder og ord av Roar Bakken
Foto: Grand Hotell i Stockholm 22. juni 1999, og Stockholm Stadion 23. juni.
Jeg må humre hver gang jeg ser på dette bildet av Clarence og meg selv utenfor hotellet i Stockholm 23. juni 1999. Jeg og min gode venn Marius hadde sett vår første utendørs stadion konsert med The E Street Band og vi var stadig bortom Grand hotell i forsøket på å få et glimt av bandet, og ikke minst autografer. Jeg humrer fordi kontrasten er stor mellom bleke meg og Big Man i nattmørket. Bildet har fått stå i perm siden den gang, men nå skal det ut i egen ramme. Det er et godt minne! Clarence er den som har betydd mest for meg og som jeg elsket aller mest av bandmedlemmene, Bruce holdt utenom.
Det er et stort tap for E Street familien og de som har fulgt Bruce og sett hvor mye Clarence saksofon har betydd for musikken, uttrykket og lydbildet, men ikke minst hvordan hans sjel og interaksjon med Bruce fra scenen skapte fargerike konserter.
Han ble alltid introdusert sist av bandmedlemmene, "You wish you could be like him, but you can't, there's only one Big Man Clarence Clemons!" Utallige gimmicker og interaksjoner med Bruce på scenen har vært en del av det ekte showet siden midten av syttitallet. Det varme og ekte smilet hans har gått rett i hjertene våre. Big Man er uerstattelig.
Vi skal ikke sette bandmedlemmer opp mot hverandre, tapet av Danny Federici på orgel og keyboard som døde av kreft i 2008 er stort. Danny ble erstattet på musikalsk vis av Charlie Giordano, og på glimrende vis har det takket være hans talent fungert utmerket på siste delen av Magic turnèn og på Working On A Dream turnèn. Forskjellen på Danny og Clarence visuelt og showmessig er at Clarence sto i front og var det fremste eksemplet på brorskapet i The E Street Band, og interaskjonen med Bruce. Bruce har på en måte mistet sin høyre hånd.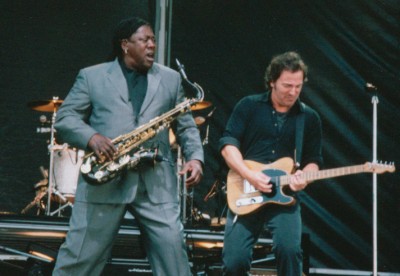 Som evig oppslukende fan, er Clarence den som har opptatt meg mest ved siden av Bruce siden jeg først oppdaget musikken. Hadde jeg muligheten gikk jeg alltid for å stå på hans side foran scenen, det var likssom fra den vinkelen jeg ville se konsertene, og det var mellom hans side og senter på scene det var ekstra magi.
I dag sørger jeg over tapet av Clarence Clemons, og minnestunden har bare såvidt begynt. Musikken og minnene vil leve for alltid.