Dette vil jeg kalle sensasjonelle nyheter:
Little Steven har sagt ja til å spille i en norsk actionkomedie som skal produseres av NRK. Serien er en actionkomedie med arbeidstittel «Lilyhammer», og handler om en mafiaboss fra New York som må gå i dekning i nettopp OL-byen Lillehammer.
Les alt om dette hos NRK http://www.nrk.no/nyheter/kultur/1.7055295
– Se Little Steven snakke om dette på Skavlan NRK1 fredag!
Flere nyhetsartikler:
Afternposten
MØTTE FANSEN PÅ GAMLA:

Les fyldig reportasje og se litt video fra gårsdagens møte med fansen på Gamla hos nettsidene til Badlandso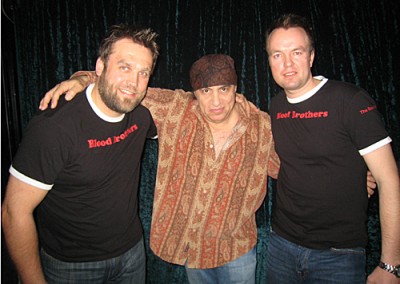 Steven with the Gangsters from Blood Brothers!
https://youtube.com/watch?v=1GJzqsEWKAk
Video made by Badlandso
Photo by springsteen.net
– Roar