DRØMMEÅR FOR SPRINGSTEEN FANS!
Vi kan se tilbake på 2009 som et drømmeår med en sterk, utviklende og vital turne som fortsatte der Magic turnèn slapp, nemlig på topp! Snaut 190 forskjellige sanger ble fremført på Working On A Dream turnèn. Utrolig! Vi kan se tilbake på 10 herlige år siden Springsteen gjenforente The E Street Band til Reunion Tour i 99/00. Heldigvis kan vi også se fremover, det gjør nemlig Springsteen selv!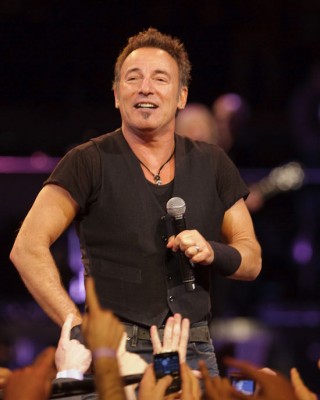 Foto: A.M. Saddler, Buffalo, New York 22/11-09
I forbindelse med Springsteens 60-års dag i september oppsummerte jeg kort Springsteens livehistorie i Norge, hvilke turner han har vært ute på og hvilke album han har gitt ut det siste tiåret: https://www.springsteen.net/#post31
I et intervju med Rolling Stone Magazine (RS) i forbindelse med turneavslutningen i Buffalo, New York 22. november i år oppsummerer Bruce selv noe av det siste tiåret, og snakker også om hva han ser for seg de neste ti årene.
Mannen er da ikke sytti år før i 2019! Les hele intervjuet hos RS.
Springsteen ser fremover:
"I have all the tools I need: I could play by myself; I could play with the Sessions Band which I'd like to do again; and The E Street Band is in full power, and I certainly wants us to go out and continue touring". Sitat hentet fra RS.
Fortsatt like sprek..:
"So now we want to take it out as far as we can go, have the guys stay happy, healthy. We play three hours any night and last night we played three and a half. I don't feel any different physically on stage than I felt in my late thirties, which is a good thing." Sitat fra RS.
Pengemaskiner
Rolling Stone har også regnet på hvilket band/artist som har spilt inn flest penger dette tiåret og på topp finner vi dinosaurene The Rolling Stones med hele 869 millioner dollar! På de neste plassene kommer U2 ($844) og Madonna ($802). På fjerde plass finner vi Bruce Springsteen & The E Street Band med 688 millioner $.
Springsteen har i tillegg turnert solo i 2005 med 76 konserter og med The Sessions Band i 2006 med 62 konserter, så hvor høyt Bruce ville havnet om tallene for disse turnene hadde blitt tatt med er ikke godt å si. Siden vi er Bruce patrioter på denne siden kan jeg ta med at han ikke har billettpriser over $100 og i tillegg har gjort x-antall benefit konserter, Vote for change i 04 og julekonserter i Asbury Park 🙂
Nye dvd-er fra Springsteen
Vi kan glede oss til flere Springsteen album og turnèr, men først kan vi glede oss med DVD som skal komme fra denne siste turnèn, samt en spesialutgave av Darkness On The Edge of Town med dokumentar og live-DVD. Spekulasjoner vil ha det til at Darkness boksen kan komme allerede 8. mars. Uansett blir det ikke altfor lenge til den første av disse to utgivelsene kommer!
God jul og godt nyttår til dere alle!
Roar
BLOOD BROTHERS
www.springsteen.net (1999 – 2009)