LIGHT OF DAY OSLO 2009 – 1. DESEMBER PÅ HERR NILSEN
– konsert til inntekt for Parkinson organisasjonen Light of Day og Norges Parkinsforbund. Konsertstart kl 21.00
Headliners: Willie Nile, Joe D'Urso, Jesse Malin & Marah (US)
Special Guest: ULABRAND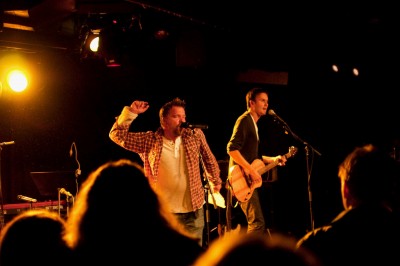 Det er med stor glede vi kan presentere Ulabrand som special guest på Light of Day på Herr Nilsen tirsdag 1. desember! Ulabrand er for mange her kjent fra sin forrykende konsert under feiringen av The Boss 60 år på Smuget 26. september i år.

NYE TIDER
Under Springsteen-feiringen på Smuget fremførte de i tillegg til klassikere som Thunder Road, Born In The U.S.A, Fire og Glory Days alle i folkrock sjangeren også Seeger Sessions låter som Pay Me My Money Down og Mary Don't You Weep. Fra Springsteens Devils & Dust album fra 2005 har de omskrevet Long Time Comin' til norsk med tittelen "Nye Tider" – her kan du se i et litt skralt lyd- og bildeopptak her:
Det går rykter om at nye Seeger låter i norsk språkdrakt er på vei under fremtidige konserter. Hvem vet, kanskje "Old Dan Tucker" dukker opp?
Mange har ønsket å se bandet igjen og nå stiller de opp for å støtte Parkinsson organisasjonen Light of Day og den norske foreningen. Ulabrand stiller med fullt band men lar trommeslageren hvile i anlending denne akustiske settingen. Liv blir det nok uansett!
NYTT ALBUM
Folkrock bandet fra Eiker-bygdene i Buskerud er aktuelle med sitt andre album/CD som nylig er blitt sluppet. CD-en har fått navnet Ulabrand II og har fått meget gode kritiker. CD-en blir solgt på Light of Day konserten, men kan forøvrig kjøpes på www.iTunes.no og hos:
http://cdon.no/musikk/ulabrand/ulabrand_ii-7483961
http://www.platekompaniet.no/Musikk.aspx/CD/Ulabrand/Ulabrand_II/?id=NOMCD3041
Ulabrand på nett: http://www.myspace.com/ulabrand

TRE UKER IGJEN!
Det er nå bare tre uker igjen til Light of Day konserten på Herr Nilsen tirsdag 1. desember med artister som Willie Nile, Joe D'Urso, Jesse Malin og Marah.
Det ligger med andre ord an til en knallåpning av årets musikalske julekalender!
ARTISTER:
Willie Nile: http://www.willienile.com/
Joe D'Urso: http://www.jdcaravan.com/
Jesse Malin: http://www.myspace.com/jessemalin
Marah: http://www.marah-usa.com/
BILLETTER kr 200 + bill. avgift hos Billettservice
Se egen sak om Light of Day med utfyllende informasjon og videoer publisert på springsteen.net 3. september.
Side om arrangementet hos Herr Nilsen