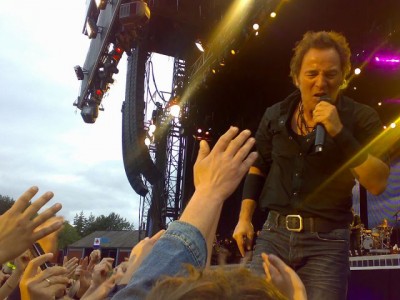 The New York Post melder at Bruce i det stille skriver på sin egen biografi.
Det har blitt skrevet en rekke bøker og uatoriserte biografier om The Boss tildigere, men nå kan det være at mannen selv har store planer! Det nærmeste vi har kommet biografier om Bruce er nok Dave Marsh' sine bøker. Marsh er gift med Barbara Carr som er Springsteens Co-manager. Sjekk ut Marsh sin Springsteen "På scenen".
Her er et lite utdrag av hva New York Post skriver;
"The Boss is going to find out if he was Born to Write.
Bruce Springsteen is said to be quietly working on his autobiography. Publishing insiders are already panting for the book — even though there is no manuscript yet.
"It could be the biggest rock music autobiography of all time," said one insider at a major publisher, who did not want to be named. "He could get $9 million to $10 million for the world rights."…
[Springsteen] has kept voluminous journals throughout his career. They will serve as the basis for the book."
Kilde: New York Post
AKTUELT: Light of Day konsert på Herr Nilsen, Oslo 1. desember. Billetter selges hos Billettservice.