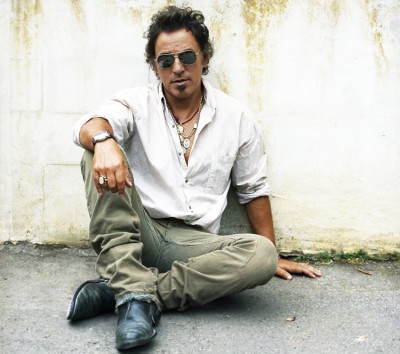 The Boss fyller i dag 60 år, gratulerer med dagen!
(Foto: BMGSony)
Gratulerer også alle Bruce Springsteen fans og tilhengere! Fanskaren i Norge har alltid vært solid og siden Reunion Tour i 1999 har Springsteen spilt hele 9 konserter her i landet – alle utsolgte selvfølgelig! Tilsammen har mannen spilt i Norge 13 ganger og solgt utrolige 310.000 konsertbilletter her.
De siste ti årene har ifølge jubilanten selv vært de mest innholdsrike i hans musikalske karriere. Allerede før dette tidspunkt hadde han en karriere verdig nok til å bli stående som kanskje den beste live artisten gjennom tidene. Så i dag er det hele hans liv og karriere vi skal hylle, men jeg har spesielt lyst til å trekke frem høydepunktene de ti siste årene som har vært svært produktive og som har bekreftet han som en artist i stadig utvikling!
Turnèr:
Reunion Tour 1999-2000 (med The E Street Band)
The Rising Tour 2002-2003 (med The E Street Band)
Devils & Dust Tour 2005 (solo)
Seeger Sessions Tour 2006 (The Sessions Band)
Magic Tour (2007-2008) (med The E Street Band)
Working On A Dream Tour 2009 (med The E Street Band)
Han har også stilt opp på Vote For Change Tour under presidentkampanjen i 2004, og støttet nå også sist president Barack Obamas kampanje for å bli president.
Album:
The Rising 2002
Devils & Dust 2005
We Shall Overcome; The Seeger Sessions 2006
Magic 2007
Working On A Dream 2009
I tillegg har han gitt ut blant annet Live In New York City DVD, Live In Barcelona DVD, Live in Dublin CD/DVD og jubileumsutgave av Born To Run inkl. konsert- og dokumentar DVD.
THE BOSS 60 ÅR – SMUGET, LØRDAG 26/9 KL. 15:00 – 03:00
Begrenset antall billetter igjen – billetter selges hos BILLETTSERVICE
Roar
www.springsteen.net/theboss60
Happy Birthday, Bruce Springsteen (video by Badlandso)
https://youtube.com/watch?v=0F7vmYcvtro