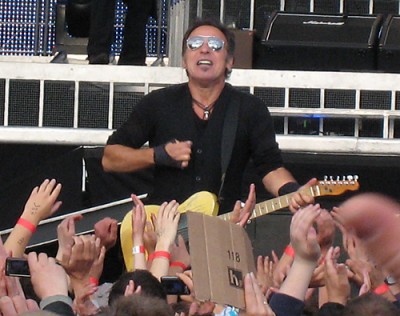 Springsteens første Bergenskonsert skapte begeistring både hos publikum og presse! Låtvalget var ganske så ordinært, men vi fikk en sjelden fremføring av Back In Your Arms Again med en personlig introduksjonshistorie av Bruce som mange sikkert vil huske som et av konsertens mest pesielle øyeblikk.
Begge Bergensavisene www.bt.no og www.ba.no er over seg av begeistrert og har viet Springsteen besøket godt med plass bådepå papir og nett – slikt liker vi!
Også VGs Stein Østbø gir konserten full pott, ingen bombe, men husk at mannen har sett Springsteen 32 ganger og da blir også personlige forventninger vanskeligere å innfri. Les VGs omtale her.
Låtliste 9. juni:
Badlands
No Surrender
My Lucky Day
Out In The Streets
Outlaw Pete
She's The One
Working On A Dream
Seeds
Johnny 99
Youngstown
Hungry Heart
Back In Your Arms
Because The Night
Darlington County
Cadillac Ranch
Waiting On A Sunny Day
The Promised Land
The River
Radio Nowhere
Lonesome Day
The Rising
Born To Run
Hard Times
Bobby Jean
Land Of Hope And Dreams
American Land
Glory Days
Dancing In The Dark
28 låter, 2t55min.
Stemning: noe labert som vanlig på norske arenaer,
men de to siste timene var helt topp!
Låtuvalget: Ordinært, forvent mer på onsdagens konsert!
Alle foto: springsteen.net
Roar