Om to dager braker det løs for Tribute bandet Cover Me med to konserter på Musikkflekken i Sandvika. Vi har tatt pulsen på frontfigur Håvard Bakke, og han kan rapportere om at bandet og musikerne er klare for å pøse ut med Bruce låter!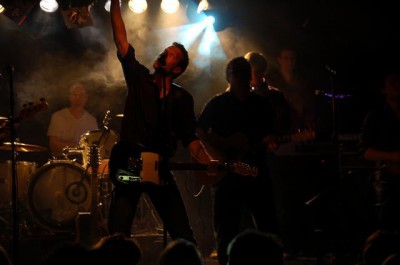 På God morgen, Norge!
I morgen torsdag, en gang mellom kl 06.55 – 10.00 spiller Cover Me to låter i programmet. Det blir en noe nedstrippet utgave, men en god smakebit på hva som kommer! Vi kan røpe at låtene er hentet fra "Born In The USA" albumet og fra "Tunnel Of Love" albumet! Se det på TV2 eller på TV2 Sumo nett-tv
Go' følelsen
– Vi hadde øvingshelg nå i helgen som var og det gikk bra! Vi fikk godfølelsen av "luft og dynamikk" som man trenger for å gjøre E Street soundet. Med så mange musikere er det viktig at hver enkelt vet når en skal spille og når en ikke skal gjøre det, sier Håvard.
Radio Nowhere
Den første øvingshelgen for vel en måned siden gikk ikke like smurt, noe man heller ikke hadde forventet. "Vi måtte grave dypt i hukommelsen da!" – Låtutvalget blir stort sett det samme som i 2006, vi er veldig fornøyd med utvalget vi har satt sammen. Det kan legges til at dette utvalget nå inkluderer Springsteens karriere helt opp til Magic albumet, "Radio Nowhere" blir å finne på låtlisten! Håvard forteller at det var en vanskelig låt å øve inn. Den kan høres enkel ut og refrenget kan fremstå som likt hver gang, men det er en krevende låt og refrenget er faktisk ikke likt en eneste gang!
Billetter kan kjøpes på www.billettservice.no eller i døra, men det kan bli utsolgt!
Se info om billetter i egen sak.
Roar